In an interview with a Boston television station, Massachusetts Treasurer Deb Goldberg expressed her worry that sports betting in Massachusetts could hurt state lottery play and resulting tax revenue.
Goldberg, a Democrat from Brookline serving her third four-year term, appeared as a guest on WCVB-TV's program "On The Record" on Sunday, Jan. 22.
During her appearance, she expressed fear that the Massachusetts Lottery would suffer with legal sports betting now allowed.
"My concern is the impact of online and in-person sports betting on the lottery," Goldberg said. "The lottery is what really benefits (the state). We give back more than $1 billion to the local communities."
However, data from other states, including Michigan, show that sports betting does not have a negative impact on lottery sales.
In February 2022, Michigan Gov. Gretchen Whitmer announced her state had set a record with more than $1.4 billion in tax revenue from the lottery in 2021. Michigan launched both online and retail sports betting that same year.
A study by economists Ernest Goss and Peyton Miller published in October 2021 in the University of Illinois Law Review showed that mobile sports betting and sports betting in casinos (retail sportsbooks) did not affect statewide gambling revenues in the first eight months of legal sports betting in West Virginia in 2019 and 2020.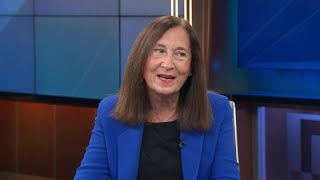 Questioning MA Sportsbook Revenue Projections
Goldberg also expressed her opinion that tax revenue from sports betting in Massachusetts would be lower than projections.
"I have not studied what sports betting will generate in revenue. I think it's a lot less than what people are anticipating," Goldberg said on the Jan. 22 program on WCVB.
According to Goldberg, her sports betting tax revenue estimates range between $35 and $50 million annually. That contrasts with the $60 million estimated by state lawmakers. The sports betting tax rate for online sportsbooks has been set at 20%, while retail sports betting operators will pay 15% in Massachusetts.
LOOKING AHEAD: Best Potential Sportsbook Welcome Bonuses Coming to Massachusetts
The tax rate for online sports betting operators in Massachusetts is higher than the national average of about 12.5%. Only five states — Delaware, New Hampshire, New York, Pennsylvania, and Rhode Island — have a higher rate.
Goldberg contrasted the expected revenue from sports betting in her state to that generated from the state lottery.
"One hundred percent of the profits (from the Massachusetts Lottery) are distributed to every single community throughout the state to benefit those who live there," Goldberg said. "Sports betting is a for-profit business. They're in it to make money. So, the tax revenue that they'll pay is merely a drop in the bucket to what they will ultimately make."
In total, 14 retail and online sportsbooks are approved to launch in Massachusetts:
MGM Springfield (retail)
Encore Boston Harbor (retail)
Plainridge Park Casino (retail)
DraftKings
FanDuel
Caesars Sportsbook
BetMGM
PointsBet
Barstool Sportsbook
WynnBET
Betr
Bally Bet
BetFanatics
Betway (won't launch in March)
Does Sports Betting Damage State Lotteries?
Evidence has not shown that state lotteries or casino gambling, for that matter, suffer because of the presence of legal sports betting in a state.
"It's a whole different type of wagering," DraftKings Director of Race & Sportsbook Operations Johnny Avello told WLNS in 2021. "(The lottery) has core players and continues to have its core players. We bring something new to the state."
The Massachusetts Gaming Commission will also take in as much as $55-80 million from sports betting operators in the form of licensing fees in 2023. Those fees are required to be renewed every five years.
Many legislators have pointed out in other states that while tax revenue from sports betting may be small compared to other activities, the treasury coffers are not the only issue. Legal sports betting helps eliminate illegal and unregulated operations, protects consumers from fraud, and provides resources for problem gambling.
READ MORE: Ranking the 11 Sportsbook Apps Coming to Massachusetts